New website and supporting app for Sleafordian Coaches 19/06/2022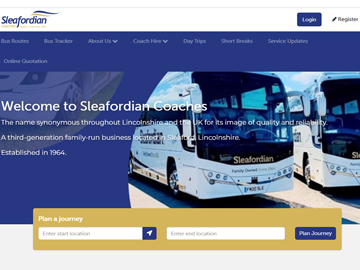 Sleafordian Coaches has launched a brand-new website and app which makes the planning and taking of bus trips and coach excursions easier than ever before.
Built and developed in partnership with industry tech firm Rise Digital Media, these digital platforms provide users with simple and instant access to the very latest service information, bus timetables, mobile tickets, coach tour and trip itineraries, live vehicle tracking (arrival and departure times), journey planning tools, news and much more.
Speaking about the new and improved digital offering, Hannah Mountcastle, Director at Sleafordian Coaches, said:
"We recognise that our customers need instant access to accurate and up-to-date service information, and our new and improved website gives them this at the touch of a button.
"We are delighted to have worked with our partners at Rise Digital Media during the production and launch of the new website. In addition to providing quick and easy access to timetables, ticket and fares information, the site's live vehicle tracking page provides users with the exact locations of their buses and coaches along individual routes on an interactive map. This handy new feature will not only help passengers plan their trips, it means they can also better manage their time waiting at bus stops."
Chris Nice, Operations Director at Rise Digital Media added: "We are delighted to have worked with the team at Sleafordian during the production and launch of their new website and app. Our suite of products and services, tailored specifically to to the bus and coach industry, have been designed to make bus and coach travel the simple and easy choice for passengers, and to provide operators with greater visibility and data reporting on services.
"We look forward to working closely with Hannah and the team as they look to build on their digital services."